Savaneta -- Op=Op Bargain Store enjoyed long lines of curious and excited clients, as it opened its doors for the first time on Friday 4/28, at 9am, in its Savaneta location.
Neighborhood residents stated gathering early in the morning, patiently waiting for the ribbon cutting ceremony, which was affected by Managing Director Lennert van der Poel, and Dutch OP = OP Director and Owner Vincent Alkema.
The famous Dutch chain offering personal care, household and health products, at attractive discount prices, was enthusiastically received and v/d Poel announced that several other OP=OP stores will be opening in the near future in other popular locations here. The chain is then planning to also expand into neighboring Curaçao and Bonaire.
The initiative to partner with the Dutch OP=OP, is that of the Aruba Growth Fund, which already runs five Botica di Servicio pharmacies here.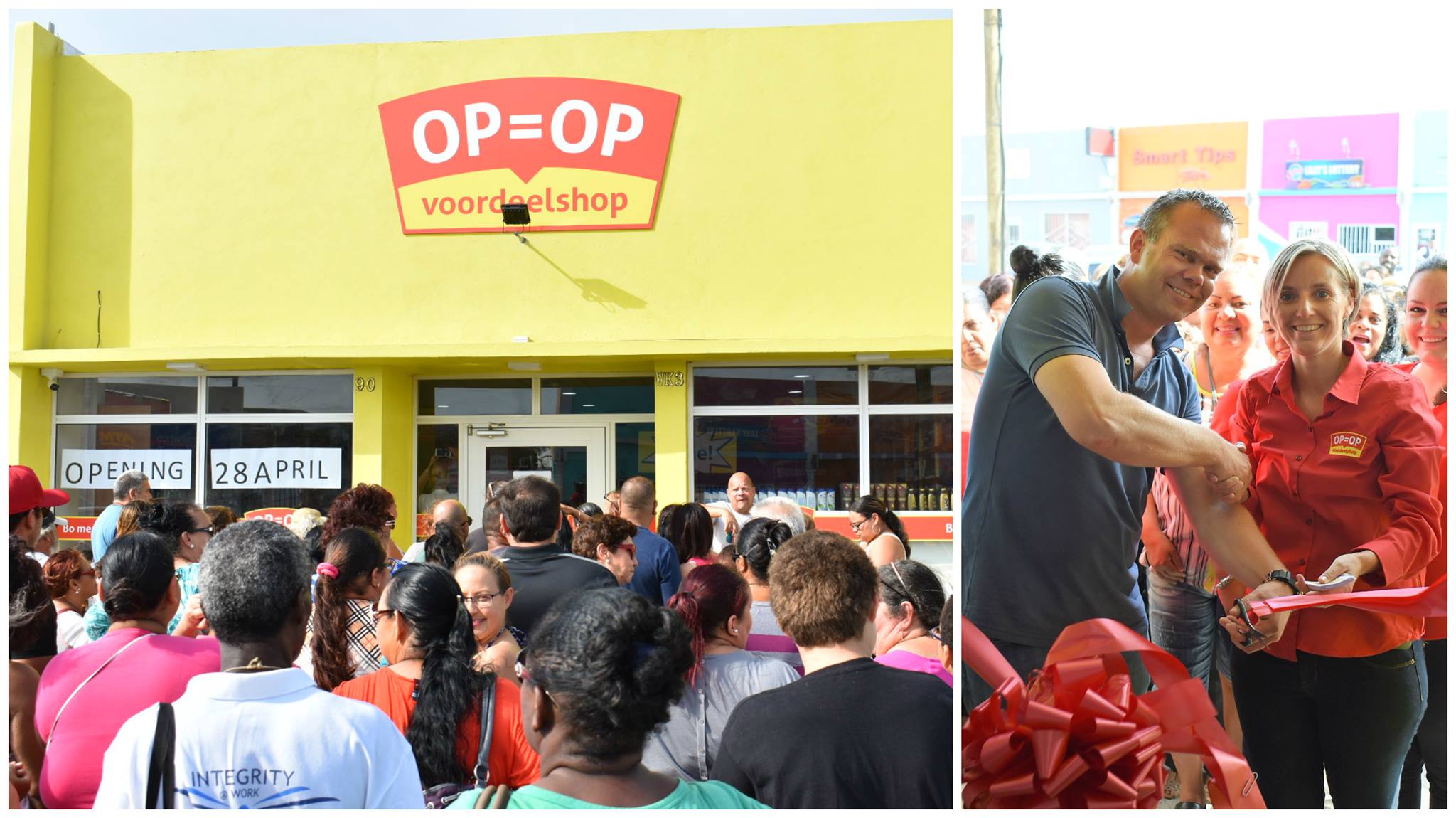 The Aruba Growth Fund Management approached OP=OP Netherlands, several month ago, and agreed to establish a partnership here. OP=OP Aruba enjoys the same interior design and the same look as its Dutch affiliate, and the products come directly from the Netherlands to Aruba, every week.
V/d Poel adds that the Aruba Growth Fund management was impressed by the look of the OP=OP stores and by the immense variety of merchandise at reasonable prices, and is pleased by the successful sales result of opening day, in Savaneta.
Op=Op was created in Klazienaveen, the Netherlands, in 1997. The chain focuses on the sale of drug store items, cleaning products and detergents, by all major international brands. The brand started out with three outlets and now runs 128 in the Netherlands, employing 900 people.
Besides a wide range of shampoos, conditioners, deodorants and detergents by top brands, Op=Op products target both male, and female clients, young and old.
Op=Op consistently offers a sharp discount, for all daily, frequently used products. Items are sold packaged together, 3 to 5 grouped in a pack, and deeply discounted; the more you buy, the more you save.
You are invited to visit Savaneta, on the main drag, Op=Op Bargain Store, come quickly, fill your shopping cart with the world's most popular brands and be surprised at the BEST prices.