Botica di Servicio, Eagle, Now Solar Powered.
Oranjestad. – Botica Di Servicio Eagle, has just completed the installation of solar panels on its roof. It is the first pharmacy, of the chain's four affiliates, to successfully become climate neutral. The chain of pharmacies, known as Botica Di Servicio, made a decision to go solar at its four locations, in Eagle, in Santa Cruz, in Noord, and in Seroe Preto San Nicholas, mainly because solar is a natural choice for Aruba where the sun shines 365 days a year.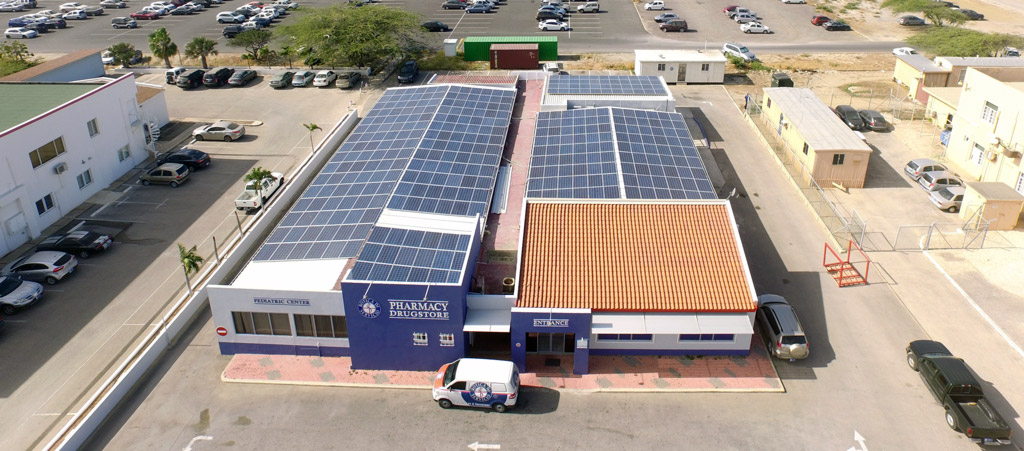 General Manager Lennert van der Poel, explains that Botica Di Servicio is taking a leadership role in the switch to alternative fuels on Aruba, noting that solar power saves money in the long run, and is a reliable source of energy, besides helping slow down global warming, a threat we should all seriously address.
The solar panel installation on the pharmacy's roof was a joint effort by Elmar NV, Engysol, All-in Lighting and Ro-Tech, each company contributing to the timely delivery of the project, in its own field of expertise. The electricity generated by the panels goes into the ELMAR NV grid, crediting the company's electric bill.
"We have installed 356 solar panels," informs Van der Poel," that will generate 160,000kWh per year, which is much more than Botica Eagle consumes, and we will continue to install additional solar panels in all affiliated pharmacies."
"Solar is the way to go," Van der Poel," concludes, "and we are proud to be among the trailblazers of alternative energy sources on the island."