Hilton Aruba Caribbean Resort & Casino Named 2018 "Hotel of the Year" at Hilton's Americas Leadership Conference.
PALM BEACH – April 8, 2019 – Aruba's most-loved beach-front hotel, Hilton Aruba Caribbean Resort & Casino, was recognized with the coveted "2018 Hotel of the Year" award at Hilton's Americas Leadership Conference hosted in Orlando, Florida. The hotel took home a first place ranking among the Americas portfolio of full-service managed hotels ranging in size from 351 to 750 rooms.
During the conference, where annual excellence awards are presented to resorts and hotels that excel in performance and hospitality, Hilton Aruba also received the area's 2018 Most Improved Profitability award, and a special recognition for landing the #1 RevPAR rating in the full-service category. Following the event, the hotel team had further reason to celebrate when learning that their Director of Revenue, Jennifer Bolstad, also landed the Circle of Excellence Award in Revenue for hotels with less than 500 rooms.
"The Hotel of the Year Award is reserved for winners who receive top scores based on a formula measuring key components such as profitability, improvement year after year, a leadership index score, and overall guest satisfaction experience," said General Manager Hans Roehrbein. "We are proud of our team and their consistent focus on performance and extending hospitality to ensure our guests have the most exceptional experience. I thank them and applaud their collective accomplishments."
To celebrate the accolades, Hilton Aruba Caribbean Resort & Casino surprised team members with a special welcome arrangement at the team member entrance, where they received a warm welcome by managers lined up on a blue carpet, live music, a festive breakfast buffet, snacks and pastries. All team members were also invited for the monthly recognition event where team members, supervisors, and managers of the month were announced.
The recognition event was made even more special when a brass band appeared in the lobby followed by Carnival dancers in extravagant costumes, guiding team members to the ballroom, in appreciation of the colossal "Hotel of the Year" award. Festivities continued in the Morris Lapidus Grand Ballroom over tasty snacks, refreshments, certificates, and tributes to team member winners. The event concluded with a heartfelt thank you note from Hotel Manager, Jacques Monteil.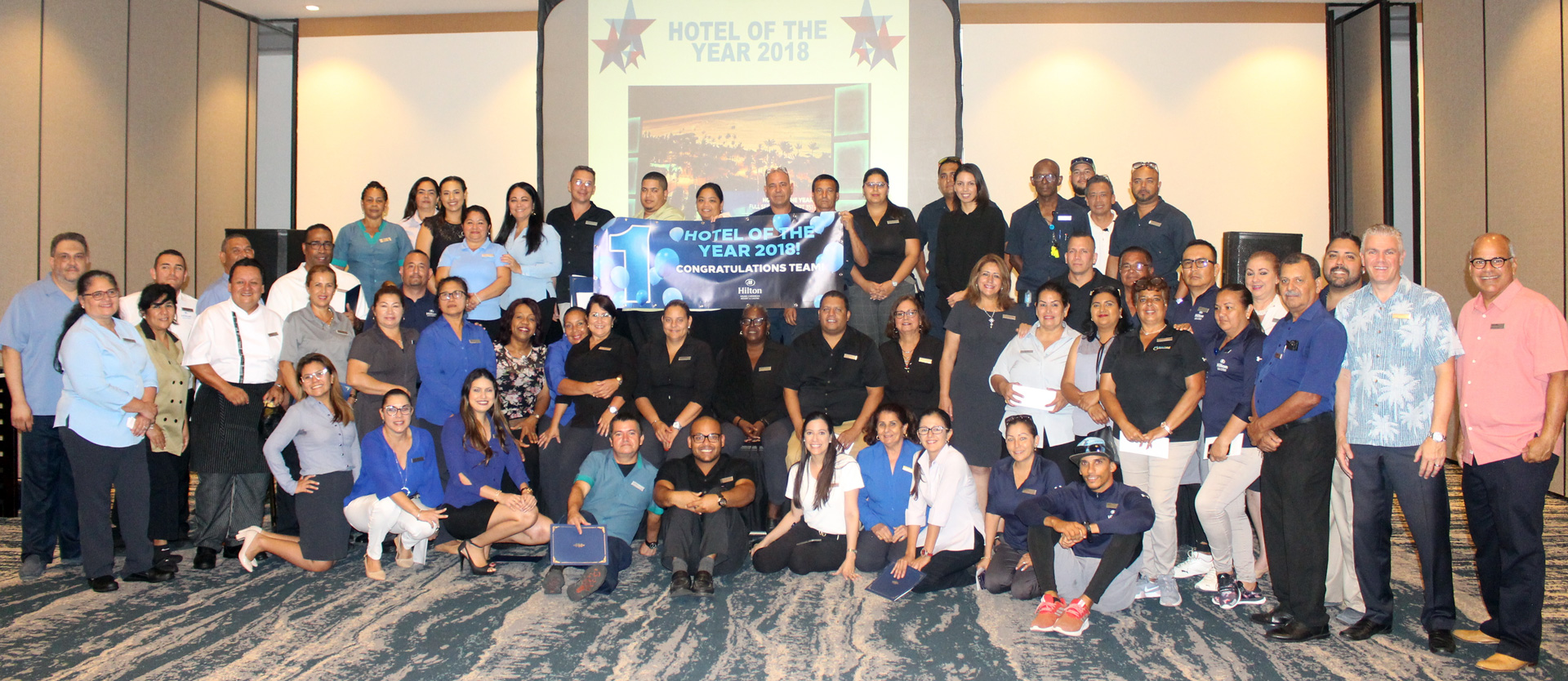 ---------

About Hilton Aruba Caribbean Resort & Casino
Located on the largest beachfront stretch of Palm Beach and less than 10 miles from the capital city of Oranjestad, Hilton Aruba Caribbean Resort & Casino welcomes guests to a premiere resort experience. Featuring iconic architecture (the resort was designed by Morris Lapidus, renowned architect of some of Miami's most famous hotels, as well at The Condado Plaza Hilton and DoubleTree by Hilton Hotel Metropolitan – New York City), unmatched beaches, enchanting gardens, expansive pool complex, kids club, watersports and dive center, world-class eforea Spa, on-site casino and culinary choices for taste buds of all varieties, this resort offers something for everyone.
About Hilton Hotels & Resorts
For nearly 100 years, Hilton Hotels & Resorts has set the benchmark for hospitality around the world, providing new product innovations and services to meet guests' evolving needs. With more than 585 hotels across six continents, Hilton Hotels & Resorts properties are located in the world's most sought-after destinations for guests who know that where they stay matters. Hilton Honors members who book directly through preferred Hilton channels have access to instant benefits. Begin your journey at www.hilton.com, and learn more by visiting newsroom.hilton.com/hhr or following Hilton Hotels & Resorts on Facebook, Twitter, and Instagram.