Celebrating 60 Years of Island Hospitality: 1959 – 2019
Aruba's first luxury hotel will celebrate its 60th anniversary on Thursday, July 18, 2019.
Long before becoming the Hilton Aruba Caribbean Resort & Casino, the iconic hotel was originally named Aruba Caribbean Hotel, and was the first luxury resort on the Caribbean Dutch island of Aruba. The hotel officially opened its doors in 1959 and paved the way for tourism on the island.
For many years, the Lago Oil Refinery was the main source of employment for the island. However, due to automation in the 1950s, many employees lost their jobs. To boost the economy, a new industry was required, and the government proposed the most feasible choice – tourism.
To commemorate its 60th anniversary, and to celebrate the hotel's breakthrough as the pioneer in Aruba's luxury hospitality industry, the resort invites guests and locals to join 60 days of celebration together with family and friends, with a series of promotions, including special local room rates, celebration menus across local-favorite restaurants such as Laguna and Sunset Grille, and eforea spa specials.
Locals and guests can also share their memorable moments at Aruba Caribbean Hotel through a photo contest activity that will be launched on social media on Thursday, July 18. Carrying the theme of iconic legacy, participants can submit their unforgettable memories for a chance to win great prizes.
The 60 days of celebration are also about giving back. As part of its corporate social responsibility initiatives, Team Members and leaders at the resort will be restoring a basketball court in the De Vuyst neighborhood in San Nicolas.
Nicknamed the "Grand Dame," the resort was designed by one of America's most famous hotel architect, Morris Lapidus, who also designed landmark hotels such as the Fountain blue, the Eden Roc and the Americana. Of the 276 hotels designed by Morris Lapidus, his design of the first large hotel in Aruba is considered one of his best.
When it opened its doors in 1959, it quickly became a favorite getaway for world-famous jet-setters. Some of the resort guests over the years included, members of the Dutch Royal family, renowned actresses, singers, songwriters and more, from Queen Beatrix of the Netherland to King Willem-Alexander, Princess Margriet van Vollenhoven, famous singers such as Harry Belafonte and George Benson, and other celebrity entertainers including Elizabeth Taylor, Eddy Fisher, Jack Benny, Arthur Godfrey, Xavier Cugat, Abbe Lane, Jan Peerce, Liberace, Natalie Wood, Bob Hope, Roger Moore and Tony Martin.
Guests of the resort can witness the resort's celebrated legacy in vintage photographs throughout the property, as a reminder of past decades, hung on walls from the lobby to the hallways and rooms, preserving the nostalgia yet pairing it with the latest technology, placing great value on innovation, and ushering its special brand of hospitality into the future.
Throughout the year, Hilton Aruba Caribbean Resort & Casino, will continue to celebrate its Diamond Jubilee, with a series of events, activities and surprises for travelers and locals alike.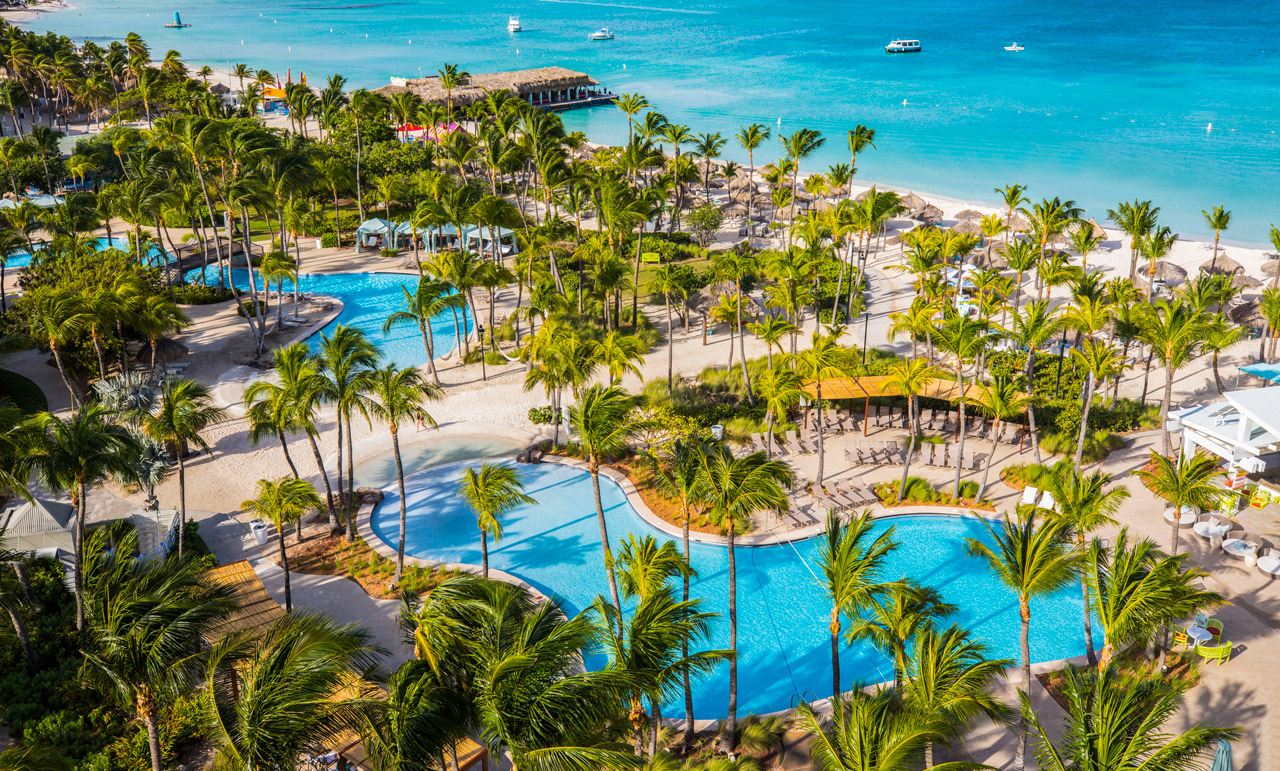 ---
Papiamento
Celebrando 60 aña di Hospitalidad Caribense: 1959 – 2019:
Aruba su prome hotel luhoso a celebra su di 60 aniversario diahuebs, 18 di juli, 2019
Basta tempo prome cu Hilton Aruba Caribbean Resort & Casino, e hotel iconico tabatin e nomber di Aruba Caribbean Hotel, y tabata e prome hotel di luho riba e isla di Aruba. E hotel a habri su portanan oficialmente na 1959 y a habri caminda pa turismo riba e isla. Pa hopi aña, Lago Oil Refinery tabata e fuente di empleo principal na Aruba. Pero cu automatisacion den a añanan 50, un gran cantidad di empleado a perde trabou. Pa sostene e economia, a mira necesidad di un industria nobo y e sugerencia di Gobierno mas probabel a bira: turismo.
Pa conmemora su di 60 aniversario, y pa celebra e hotel su progreso como pionero di Aruba su industria di hospitalidad di luho, e resort ta invita guest y local pa participa den 60 dia di celebracion hunto cu famianan y amistad, cu un serie di promocion. Esakinan ta inclui prijsnan special pa kamber, menunan special p'e celebracion den varios restaurant manera Laguna y Sunset Grille e specials den Eforea Spa.
Localnan y bishitante por comparti momentonan inolvidabel den un concurso di fotografia cu ta lansa riba social media diahuebs, 18 di juli. Cargando e tema di "Iconic Legacy", participantenan por entrega nan recuerdonan inolvidabel pa e chens di gana premionan fabuloso.
E 60 dianan di celebracion tambe ta un tempo pa debolbe. Como parti di su programa di responabilidad social corporativo, colega y lidernan di e resort lo ta restaurando un cancha di basketball den bario di De Vuyst na San Nicolas. E asina yama "Gran Dama", e hotel tabata diseña pa un di e architectonan Mericano di hotel, Morris Lapidus, kende tambe a diseña hotelnan referencial manera e Fountain Bleu, Eden Roc y Americana. Di e 276 hotelnan diseña pa Morriba Lapidus, esun di e prome hotel grandi na Aruba ta considera un di su mihornan.
Despues di a habri su portanan na 1959, rapidamente ela bira un localidad faborito di celebridadnan famoso. Algun di e guestnan durante añanan tabata, miembronan di Famia Real Hulandes, actor, actriz, cantantenan y mas. For di Reina Beatrix pa Rey Willem-Alexander, Princess Margriet van Vollenhoven, cantantenan manera Harry Belafonte y George Benson, y otro farandulero manera Elizabeth Taylor, Eddy Fisher, Jack Benny, Arthur Godfrey, Xavier Cugat, Abbe Lane, Jan Peerce, Liberace, Natalie Wood, Bob Hope, Roger Moore y Tony Martin.
Guestnan di e hotel por mira e legado celebre aki den un serie di fotografia vintage dentro di e propiedad, como recuerdo di e decadanan pasa, colga riba muraya den lobby y hanchinan y hasta kamber. Asina preservando e nostalgia y combinando e cu tecnologia actual, poniendo balor grandi riba inovacion pa trece e marca special di hospitalidad antiguo tambe den futuro.
Durante e añanan, Hilton Aruba Caribbean Resort & Casino, lo continua e celebracion di su Aniversario di Diamente cu actividad y surpresanan pa tanto local y bishitantenan por disfruta.
E Aruba Growth Fund, a cumpra e propiedad na 2015.
E Aruba Growth Fund t'e prome fondo di accion financiero na Aruba. El a ricibi su fondonan inicial for di Aruba su fondo di pensioen principal y varios compania priva di bon reputacion. E Aruba Growth Fund a cumpra e propiedad na 2015 y a brand e como Hilton. Na december 2016, n'e ceremonia di reapertura, tumando lugar den e lobby renoba, e representante di doñonan Rene Kan, a comparti su vision. Rene Kan a anuncia con anima e ta pa e futuro di e hotel. El a wak'e como e destinacion number uno pa biaheronan pa Aruba. El a wak un lugar caminda coleganan ta bin traha y ta bay cas tur dia cu un sonrisa riba nan cara y un hotel cu un lugar inolvidabel den historia, pero ken su futuro ta un parti integral pa su isla natal.
El a gradici tur hende cu a confia e team di maneho y a priminti pa traha hunto pa crea un experiencia bunita pa cada uno cu bishita e resort y e fabuloso isla di Aruba. Su vision ta intacto ainda. Ya ta mas cu 4 aña cu Hilton Hotels & Resorts, e marca principal di Hilton Worldwide a anuncia e ampliacion di su presencia global pa inclui e Hilton Aruba di 357-kamber, riba e bunita oasis di Palm Beach.
Awe, e compania ta bisa cu Hilton Aruba Caribbean Resort & Casino ta un di e Hilton-nan mas exitoso na mundo y un di esnan cu mas ocupacion den e compania. Den comienso di aña e resort a gana "Hotel of the Year", drentanto como e prome den e chain su propiedadna. Di su tamaño, operando entre 351 y 750 kamber, den area di America y Caribe. E resort a wordo honra durante e Hilton Leadership Conference na Orlando, reconosiendo e logronan di surpasa expectativa di guest y alcansa metanan financiero. Mas importante, e resort t'e unico riba e isla caminda coleganan tambe tin shares den e hotel inclui den nan pensioen, cu ta inverti y creciendo, den un hotel elegante den localidad principal riba beachnan blanco, yamabdo bahieronan bon bini pa 6 decada na nan destino hotelero popular.